The Cherry and Violet Cloud skullcaps are announcing what spring is all about: flower power!
The Cherry (or Pink) skullcap is particularly impressive for its masses of blooms. I'm so impressed with this scutellaria. This is a second year plant and has maintained a nice, tight mounded habit since I first planted it.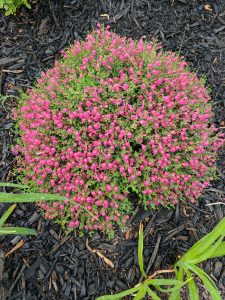 The purple blooms of the Violet Cloud isn't as plentiful as Cherry Pink, but it is still a young plant. While it seems to sprawl a bit more than the Cherry Skullcap, its purple blooms provide great color contrast with the yellows and greens in a flower garden.
I read that scutellaria can be propagated via softwood cuttings, so I'll be taking a few samples this week to try them out.