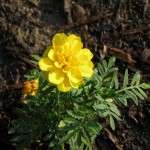 It's hot. Pushing 100s hot. I was crazy to work the garden this weekend in this weather. But I got a lot accomplished and made some observations. For example, my first petunia seedling to flower (which I failed to photograph) was an Easy Wave white bloom.
A couple more marigolds, yellow and scarlet–though the scarlet wasn't being photogenic–also
made an appearance in the tree ring. Except that yellow marigold is the same one that first bloomed.  The tree ring's first salvia also bloomed, but it is the coral nymph and not the Lady in Red that I've been waiting for.
Because it's been sweltering, the man decided to water everything today…including the freshly mowed lawn. Methinks he cut it too low this go-around. He'll let it get an inch or two next time. But the dry conditions gave him incentive to plant my purple pastel and mulch the hostas. I didn't see, but he said the hostas were having a bad time of it.
The half inch cutting of Lanai Purple Star verbena grew about an inch long in opposite directions and produced flowers! This was a throwaway piece of verbena and it decided to take root and bloom barely a month later. The heat also agrees with the lemon verbena that I almost killed with neglect. It's coming back in leaves in its original pot. I'm still debating on where to plant it however.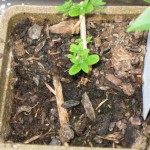 All my toiling yielded me my first and only bouquet of flowers from this year's lily garden: 2 stems of Navona asiatic lilies which I had knocked down while working the lily bed (and running for my life from raging wasps). Nice to have home-grown floral arrangements for a change.
And it's also nice to see the tiny nubs of the planter bowl caladium–White Delight–making a showing. I imagine the other caladiums in the shade bed should be popping out about now. Well, that is, if the cedar mulch hasn't covered it back up again.
I coaxed more seeds out of the white nymph salvia I installed in a planter box. I'm hoping that as the weeks progress, I'll have a nice size baggy of seeds to plant next year in the front flower bed, or perhaps the tree ring.