I may have acted too late. I spotted what remained of the variegated Prince Rupert scented geranium (French Lace) in the blue bed. It seems the cool weather had finally turned it brown. I had to get it into a pot immediately and bring it indoors during the evening. I'm not sure it will make it, but I'm hoping. The photo I took of it is very disheartening. For more than a year it languished in part shade. I supposed it might have preferred full sun but the heat wave we experience this summer might have killed it. It looks so frail compared to the original plant I bought in April.
The red rubin basil has returned to its purple self. During its seedling stages and for much of the extremely hot summer months, it nearly lost most of those jewel purple tones…appearing splotchy hearted rather than the stunning dark beauty it is today. This particular specimen was hacked back down nearly to the root, but possessed enough side shoots to make a comeback.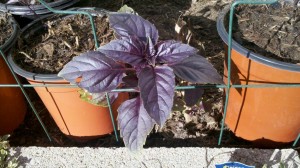 The lime thyme and variegated oregano really took off this summer.
I think I've discovered the name for the kidney shaped weed that has been invading the lily bed lately. I believe they are dichondra, which may have hitched a ride from a previous tenant, or it's just never had a chance to come into its own until today. I'll have to do some research…it looks nothing like the silver falls dichondra we see around the arboretum.
Wishlist plant of the day: Alaska mix nasturtiums.